PARTY TABLE
$200 Monday - Thursday
$225 Friday - Sunday + Holidays

- 90 Minutes at one of our PARTY TABLES (not a private area). Seats up to 8 adults or 10 kids.
- Includes 6 PARTY FUN CARDS: 80 Credits + 1 game of Mini Golf per card.
- Additional Party Fun Cards can be purchased for $30 each.
- Purchase food upon arrival from our concession. Menu & Pricing
- Bring in your own cake. No other outside food permitted.
Party packages are subject to change.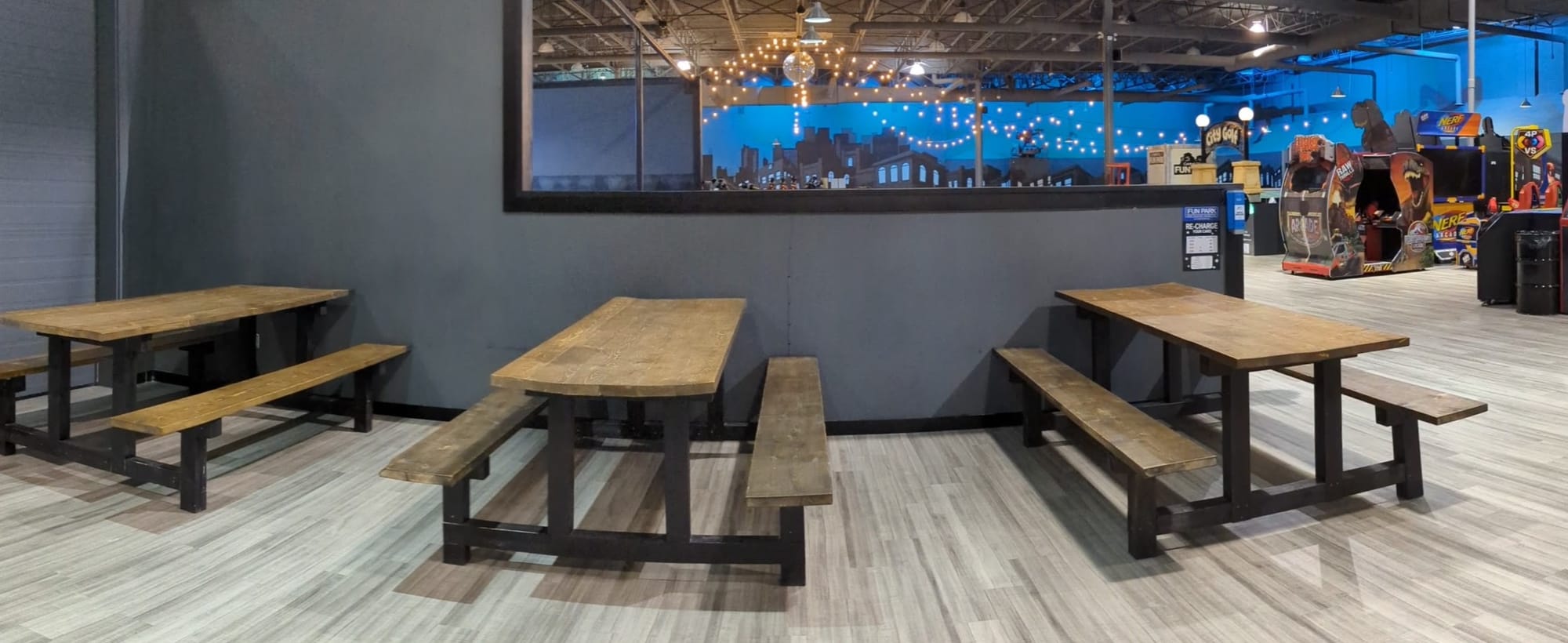 For larger parties, please check out our PRIVATE PARTY ROOM.
FAQ

Do you offer alternative Booking Times?
- No, our party bookings times are pre-set and staff are unable to alter them.
Why do you have so few Booking Times available on weekends?
- Our party tables convert to concession/restaurant seating after 1 pm on weekends.
Can I bring in my own food?
- No, not with PARTY TABLES. You can ONLY bring in some limited food items if you reserve a PARTY ROOM.
Can I store my cake in a fridge or freezer?
- Yes, please visit our staff at the concession counter.
How early can I arrive before my party starts?
- Party organizers are permitted to arrive 5 minutes prior to the party start time in order to set up their tables and receive their Party Fun Cards.
What is the size of the Party Table?
- They are 96 x 33" picnic-style tables.
Can I bring in a piñata or additional decorations?
- We do not allow piñatas. The only decorations we accept are balloons which can only be attached to the tables. Do not tape anything to the walls as it can damage the paint upon removal.
Can I get a refund if I don't use all of the Party Fun Cards?
- Party Fun Cards are non refundable. However, they do not expire and can be used at a later date during regular public hours.
Does Central City Fun Park guarantee that all attractions will be available for my party guests?
- No, it all depends on how busy our facility is at the time of your party. We have many arcade and redemption games but there are no guarantees when it comes to other attractions.
What is the cancellation policy?
- Full refunds are offered 7 days prior to the original booked date.